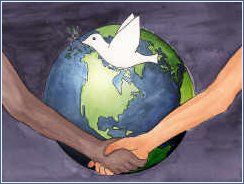 Working For Peace
"A few really dedicated people can offset the ill effects of masses of out-of-harmony people, so we who work for peace must not falter, we must continue to pray for peace and to act for peace in whatever way we can. We must continue to speak for peace and to live the way of peace; to inspire others, we must continue to think of peace and to know it is possible. What we dwell upon we help to bring into manifestation. One little person, giving all of her time to peace, makes news. Many people, giving some of their time, can make history.

There's no greater block to world peace or inner peace than fear. What we fear we tend to develop an unreasoning hatred for, so we come to hate and fear. This not only injures us psychologically and aggravates world tension, but through such negative concentration we tend to attract the things we fear. If we fear nothing and radiate love, we can expect good things to come. How much this world needs the message and example of love and faith!"


This is the way of peace:

Overcome evil with good,

falsehood with truth,

and hatred with love.
-Excerpt from "Steps Toward Inner Peace' by
Peace Pilgrim
---
Lead me from death to life, from falsehood to truth.

Lead me from despair to hope, from fear to trust.

Lead me from hate to love, from war to peace.

Let peace fill our heart, our world, our universe.

Peace. Peace. Peace.


Mother Teresa